Tammy Bruce, who is lesbian and conservative, writes:
A funny thing happened on the way to the Donald Trump inauguration — liberals suddenly became champions of people being allowed to decline participating in something if it violated their conscience.
She was remarking about the response on the left to the story, albeit "fake news," it turns out, that the Radio City Rockettes were requiring dancers to perform against their will at the Trump inauguration (in actuality, participating in the inauguration is voluntary). Writes Bruce:
During the brief hubbub, actors and other performers understandably came out in support of the dancers' right to refuse to perform if an event violated their conscience. I also believe there should be an escape clause in cases such as this allowing a performer flexibility. After all, who wants anyone to be forced to do something against their conscience?

Yet it's fair to say the same liberals who support the Rockettes' right to not perform are the same people who have no problem with Christian businesses being attacked for declining to participate in something that violates their conscience and faith. In their cases, the refusal to cater or bake a cake for a gay wedding. …

It's the same double standard we saw recently when, as the Portland (Maine) Press Herald reported:
On the coldest day of the season, a Skowhegan-area propane dealer has a pointed message for would-be customers. "If you voted for Donald Trump for President, I will no longer be delivering your gas, please find someone else," is the message left for customers that call Turner LP Gas Service, on Canaan Road in Skowhegan.
But if this were a bakery that refused to sell a wedding cake to a gay couple….
As instapundit Glenn Reynolds likes to say, if not for their double standards, progressives would have no standards at all.
Added: More mendacity:
Writing in Bustle, Cate Carrejo said the government should force Christians to participate in same-sex wedding ceremonies but the Rockettes should not be obligated to perform at the inauguration "because one is discriminatory and the other isn't."
And a response:
Pointing to the case of Sweet Cakes by Melissa, an Oregon bakery that was fined $135,000 and forced to close for refusing to make a wedding cake for a lesbian couple, Mr. Gainor said Christian bakers are happy to serve gay people.

"And that's different — it's a creative labor," Mr. Gainor said. "If you wanted something that was in the shop, help yourself, happy to provide it. But if you want me to be involved in your wedding, I can't do that. It's a very clear line."
It's unfortunate we have to rely on social conservatives to point out the obvious.
Added: Boston Globe columnist Jeff Jacoby: Freedom of association isn't just for the Rockettes. Right, it isn't.
More. I'll segue into another story. Students at the University of Wisconsin-Madison (UW-Madison) are petitioning the school to ban a campus conservative group, Young Americans for Freedom, which has numerous chapters on U.S. college campuses:
The petition further faults YAF for creating a "hostile environment" by "misgender[ing] LGBTQIA+ students" making members of the student government feel "unsafe."

"We, the undersigned are asking that UW-Madison administration take a hard look at the charter of Young Americans for Freedom … and ideally put the involved students through intensive diversity training and have the charter revoked so Y.A.F. is no longer a campus organization that can create a hostile environment on campus," the petition reads.
YAF's thought crime was to invite conservative political commentator, columnist and radio host Ben Shapiro to speak on campus. Shapiro, as it happens, is a never-Trumper, which, as Wikipedia recounts, has brought him under fire from the alt right swamplands. Which you might think would cut him some slack with progressives—if you didn't actually know any progressives.
Furthermore. Out magazine is still complaining that "It's telling that when Donald Trump awkwardly waved a rainbow flag during a Colorado rally in October, the banner was upside down." Which, apparently, was a sign that "Trump's White House will effectively act as the nation's largest anti-LGBT hate group." Oh.
It's reminiscent of the dismissal of Trump's July acceptance speech at the GOP convention, when he said: "Only weeks ago, in Orlando, Florida, 49 wonderful Americans were savagely murdered by an Islamic terrorist. This time, the terrorist targeted our LGBTQ community. No good. And we're going to stop it. As your President, I will do everything in my power to protect our LGBTQ citizens from the violence and oppression of a hateful foreign ideology." [applause] "I must say as a Republican it is so nice to hear you cheering. Thank you." (Progressive response: pandering.)
At the October rally, Trump was handed the flag by gay supporters and held it out for the audience, leading Zack Ford, the LGBT editor for ThinkProgress.org, to tweet:
Putting a slogan ["LGBTs for Trump"] on a flag is considered desecration. Also, the flag was upside down (red goes on top). What am I supposed to respect here?
Mind you, it's not that the words were upside down, it's that the rainbow flag should have the red stripe on top. Which means it's not Trump's fault, but that some incompetent gay person supporting Trump didn't know which way the flag goes or that writing on the sacred object was an act of "desecration" and probably a hate crime. Sad!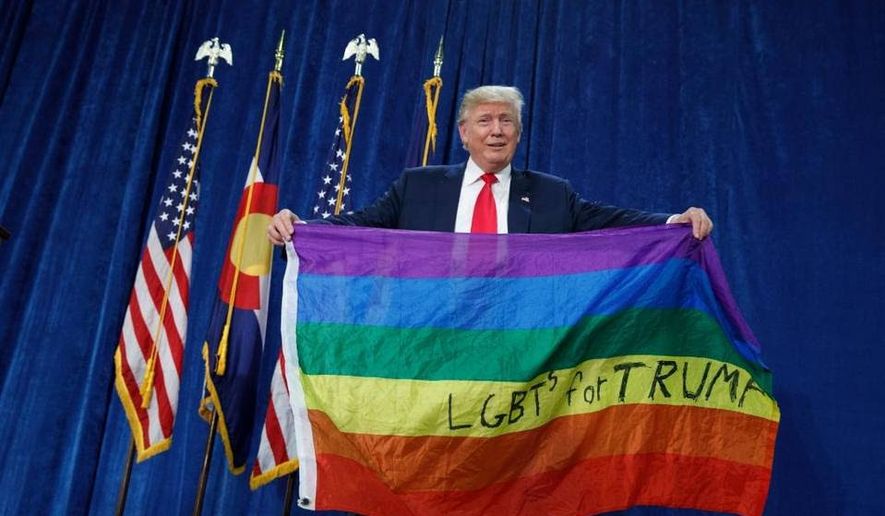 Some, of a more rational bent, might think that Trump's holding up the rainbow flag was, in itself, what was significant, and in a good way. Such people, however, would not be progressives.
As I noted, the conservative Washington Times ran a supportive op-ed titled " Donald Trump holds high the flag for gay equality," which indicated that conservatives were more comfortable with a gay-inclusive GOP than the LGBT establishment is.