As I've noted before, I am not a Donald Trump supporter, finding him unfit by dint of his positions on immigration, trade and civil liberties, as well as due to his hair-trigger personality. I am also not a Hillary Clinton supporter, given her long history of corruption and dishonesty, and her awful positions on taxes, spending and regulation. [Not to mention her rolling foreign policy disasters as Sec'y of State.]
That said, if there's one thing good about Trump, it's that as the GOP presidential nominee he has reached out to, as he puts it, "LGBTQ" Americans. In response, the LGBT political activists who are basically an auxiliary of the Democrat party, and LGBT media of which the same is true, have promoted the lie that Trump is anti-gay.
I think it's a good thing for gay people who find Trump's politics and personality acceptable to be supporting him. The Washington Post reports that:
If the only gay voices you hear are Trump foes and Clinton boosters…you could easily assume that all LGBT voters are in the Democratic presidential nominee's camp. Well, think again. A Gallup poll released Wednesday reports that 12 percent of LGBT adults view Republican nominee Donald Trump favorably. Granted, that's compared with the 55 percent who have a positive view of Clinton, but it's still a surprising number. Even more eyebrow-raising, the poll found that fully 21 percent of older (55+) LGBT people gave Trump a favorable rating.
That's a 12% favorable rating; the actual gay vote for Trump is likely to be much larger.
[Update: According to Reuters polling: while in March Trump had just 13.5% support from LGBT voters, in May LGBT support rose to 18.3%. Trump's numbers took a slight dip in June before rising to 23% in late July. However, a New York Times exit poll put LGBT votes for Trump on election day at 14%.]
The newsite buzzfeed joins the fray with a post that's dismissively headlined Donald Trump's Top "LGBT" Supporters Are Largely Gay White Men. The story notes that:
On Sunday night in Greeley, Colorado, Donald Trump spotted something he wanted in the crowd. He gestured to a supporter, who handed a wad of rainbow fabric up to the stage. Trump unfurled it for the fans and cameras — a pride flag scrawled with the words "LGBTs for Trump." He strutted stage left, grinning and nodding to the audience with a literal sign of his diverse support.
Despite buzzfeed's snark, it's a startling photo of the likes we've never seen from a GOP presidential nominee, and shows why Trump's gay support isn't crazy.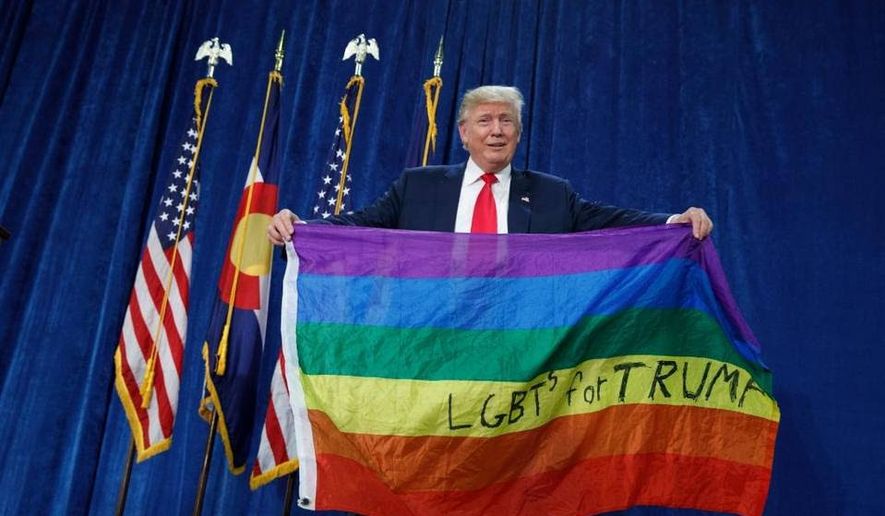 More. Commenters have pointed to Chad Felix Greene's deeply thoughtful essay at HuffPost, I'm Gay, But I'm Not 'LGBT.' Here's Why. It's long but well worth reading. Toward the end he addresses what has now become the Trump flag controversy:
#GaysforTrump supporters handed Donald Trump a rainbow flag they had written a supportive slogan on at an event which he held up for the cameras. The act was completely mundane in that Trump has never been hostile towards gays and he tends to be enthusiastic about all of his supporters, often showing open public support for them. Trump holding the flag was simple, it wasn't staged, and it wasn't a planned photo-op at a gay event to pander. It also wasn't done with political biting-of-the-tongue because he had to. Trump was handed the flag by supporters and he did what he always does, he held it up and smiled.
Zack Ford, the LGBT editor for ThinkProgress.org, tweeted that "Putting a slogan on a flag is considered desecration. Also, the flag was upside down (red goes on top). What am I supposed to respect here?"
To which Greene responded:
The LGBT media instantly pounced on the idea that the flag was 'upside down' and Ford ranted endlessly, clutching multiple strands of pearls at once, about 'desecration' of what is now, apparently, a sacred flag. This is cult-like behavior. Its tribalism. The flag is usually presented with the red stripe at the top but there has never been a question of a correct side. The notion it is being held 'upside down', especially with the implication given to say an upside down cross, is nonsense. Gay people wrote on the flag, it wasn't desecrated. I find the sudden treatment of this symbol as holy disturbing.
Indeed. Some might even say it's crazy.
Furthermore. Trump's holding up of the gay flag happened last Sunday. Not a word about it in the following Friday's weekly Washington Blade, the strongly pro-Clinton LGBT paper in the nation's capital.
The city's conservative paper, the Washington Times, ran a supportive op-ed titled "Donald Trump holds high the flag for gay equality," which indicates that conservatives may be more comfortable with a gay-inclusive GOP than the LGBT establishment is.
Update: In mid-December, Out magazine was still complaining that "It's telling that when Donald Trump awkwardly waved a rainbow flag during a Colorado rally in October, the banner was upside down."